Ukraine continues to battle Russia's invasion but hockey's business is just carrying on.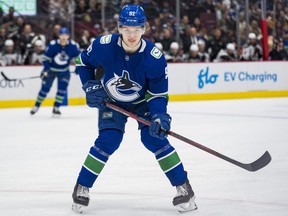 Article content
The Russian invasion of Ukraine unleashed a torrent of condemnations and sanctions against the Russian state and key citizens.
Article content
But other than a few bans here and there, mostly in the sporting realm — like the Canadian Hockey League banning Russians and Belarusians from the import draft or Wimbledon banning tennis players from Russia and Belarus — Russian athletes are still able to travel and work internationally.
Both Canada and the United States require Russians to apply for a visa to enter their respective countries. Professional athletes, like the Vancouver Canucks' Vasily Podkolzin, needs specific work visas and permits.
Whatever diplomatic tensions may exist between Canada, the United States and Russia, it doesn't seem to be affecting Russian professional hockey players from getting their paperwork in order before the 2022-23 NHL season.
Article content
Player agent Todd Diamond has been representing Russian hockey players for years, like former Canuck Nikita Tryamkin, who is now playing in the KHL.
Diamond said he hasn't had a player's permit or visa application turned down by either Canada or the United States.
"In the U.S, you file for pre-approval, so once you are at the consulate you already have an employment contract and your pre-approval paperwork. As long as they don't find you in any crime database you're fine," Diamond said.
Dan Milstein, another agent who has represented many players from Russia — including current free agent Andrei Kuzmenko — Belarus and Ukraine over the years, also said his clients have all had their visas renewed.
The process though, is slower than in the past because of the reality of diplomatic tensions. For example, to get an American visa, Russian players are having to travel to Europe, Diamond pointed out.
Article content
"U.S.A. a bit more difficult as all U.S. consulates in Russia are not issuing visas so they need to apply and travel to the EU," Diamond said. "No direct flights (between Russia and Europe) so need to fly via Istanbul or Dubai."
In a statement, the U.S. State Department explained that the inability to process visas for Russians in Russia itself is because of the Russian government's decision to expel a large number of American diplomats in late March.
"We have been unable to process most visas in Moscow for several months because of the Russian government's forced reduction of our consular workforce. Non-immigrant visa applications may be processed wherever an applicant is physically located and can schedule an appointment," a spokesperson for the State Department said in an email."We cannot speculate on whether someone may or may not be eligible for a visa. Whenever an individual applies for a U.S. visa, a consular officer reviews the facts of the case and determines whether the applicant is eligible for that visa based on U.S. law. We have no changes to visa eligibility to announce at this time."
Article content
Canada's Moscow embassy remains open and is processing visas, but Diamond said he'd found their response time slow.
"Generally speaking, a foreign athlete competing on behalf of a Canadian employer requires a work permit. Foreign athletes who are competing in Canada for a foreign organization don't require a work permit, but they may require a temporary resident visa to enter Canada," Jeffrey MacDonald, a communications officer for Immigration, Refugees and Citizenship Canada said in an email.
"Applications from around the world are assessed equally and against the same criteria, regardless of the country of origin, on a case-by-case basis. Visa officers review each application to assess whether the foreign national meets the requirements for the type of application they've submitted and they are admissible to Canada. This process hasn't changed."
NO NEWS — Milstein declined to comment on where things are at with Kuzmenko's pursuit of an NHL team. The Russian forward is a free agent and has spoken with a number of NHL teams in recent weeks, including the Vancouver Canucks.

link