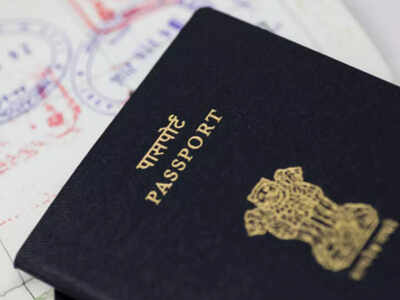 Indian passports are typically valid for ten years and each passport has both dates of issue and expiration mentioned in them. Representative Image
Passports are official documents that act as proof of citizenship and allow international travel. This document is essential for people who are travelling abroad for various purposes including — education, tourism, pilgrimage, business and other reasons. Apart from serving identity and nationality proof, a passport can also serve as an address and birth date proof and can be used for other official purposes. Here we will discuss the different types of passports, documents required and steps to follow to apply for a regular passport online.
Different types of Indian Passports
Indian passports are typically valid for ten years and each passport has both dates of issue and expiration mentioned in them. On average, a passport contains 36 to 60 pages. There are three types of Indian passports available which are — Regular passport, Diplomatic passport and Official passport. However, every citizen who has a passport is not allowed to enter foreign lands. For that purpose, citizens also need to apply for a visa to enter certain countries and they are permitted to enter the nation only after the visa gets approved. Meanwhile, it is important to keep your passport updated and online passport portals have been introduced to ease the job.
How to apply for a passport online
Currently, Indian citizens have the option to apply for a passport online and anyone can use this service by registering themselves on the Passport Seva online portal — https://portal1.passportindia.gov.in/AppOnlineProject/welcomeLink/. Internet users need to visit this website and click on "New User Registration". Then they have to choose their respective passport office and enter the required details. Then, users have to create a login ID and password and verify all the details by clicking on "Register". Lastly, users have to activate their Passport Seva account through the activation link received by email.
Once the online portal account is activated, users have to visit the above-mentioned website again and this time needs to click on 'Existing User Login'. Now follow the steps mentioned below to apply for a new passport or to renew an existing one:
Step 1: Click on "Apply for Fresh Passport/ Re-issue of passport" after logging in
Step 2: Enter all the required details for the fresh passport and all the old passport details if you are applying for renewal.
Step 3: Submit those details (It is important to check the details minutely as they cannot be changed after submission)
Step 4: Click on the option 'View Submitted Application' and schedule an appointment
Step 5: Use online payment to pay the required amount (if you don't have internet banking you can also pay through challan at any SBI branch, however, it will take two days to verify the payment )
Step 6: Click on 'Print Application Receipt' to get a copy of the application and its reference number. (You can show the SMS as proof of appointment at the Passport Seva Kendra if you can't get a printout)
Applicants need a list of documents that are required while applying for the passports. These documents include — birth certificate, transfer/school leaving/matriculation certificate, policy bond from public life insurance corporations/companies, Aadhaar Card/E-Aadhaar, Election photo identity card, PAN Card, and address proof. Some of the valid address proofs include — water, telephone or electricity bills, Election Commission photo ID card and proof of gas connection among others.
How to schedule an application appointment
Applicants can select the nearest Passport Seva Kendra at the pay and schedule appointment page. Here they can choose a convenient slot and need to confirm the slot by entering the captcha code. Then, applicants need to pay and schedule an appointment after which relevant details will be displayed on the page. Now, they can schedule the appointment by paying through the selected portal.
Usually, it takes up to eight business days for applicants to schedule an appointment at the nearest Passport Seva Kendra. After all the formalities are cleared it takes around three more weeks before the applicants receive it. However, in the case of Tatkal passports, these documents are dispatched strictly within 3 business days.
What are e-Passports?
The Indian government announced these e-Passports in 2019 and is expected to implement them soon. These e-Passports are expected to be easy to read and will have thick front and back covers. The back cover of the e-passports will also include a silicon chip which is likely to have 64KB of memory space. The fingerprint of the passport holder is expected to get stored in the chip and might have the capacity to store up to 30 visits. A US-Government certified laboratory has already tested the prototype of this kind of passport. Once it comes into existence, e-passports are likely to revolutionise travel by making it easier and more comfortable.
FOLLOW US ON SOCIAL MEDIA
FacebookTwitterInstagramKOO APPYOUTUBE

link