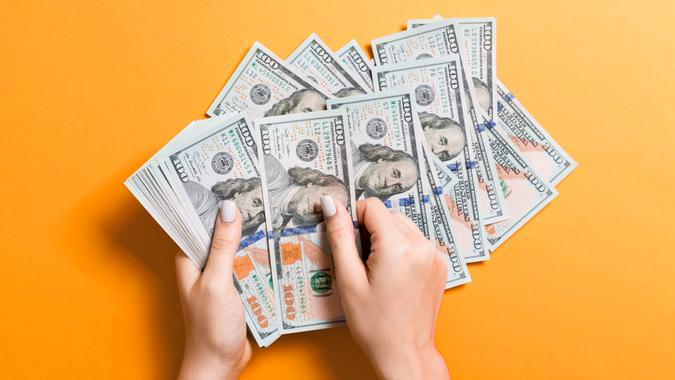 Mykola Sosiukin / Getty Images/iStockphoto
Credit cards have plenty of unique incentives to make cardholders choose them over their competition. Different cards can offer rewards points, travel miles and other innovative perks. However, among the preferred options of many consumers is the cash back credit card. With a 2% cash back credit card, anyone can earn while they spend, ultimately making their budget go further.
Here are some of the top 2% cash back credit cards that consumers can find today and the details they need to make the choice that's right for them.
1. Alliant Cashback Visa® Signature Credit Card
The Alliant Cashback Visa® Signature credit card is an attractive option that provides cash back with no upper limit and doesn't charge an annual fee. This card doesn't give precisely 2% cash back but instead provides 2.5% on the first $10,000 in spending. Any spending after that provides 1.5% cash back.
The card offers attractive rates starting from % APR. Cardholders will have no problem accessing their other payment methods and digital wallets with support for Google Pay, Samsung Pay, Apple Pay and more.
One of the best features of this card is that it doesn't restrict cash back to certain categories of spending. While many others only give cash back at certain stores or for certain purchases like groceries or gas, the Alliant Cashback Visa® Signature credit card doesn't carry any such terms.
However, getting the card does require joining Alliant credit union. Cardholders will need to set up an Alliant High-Rate Checking account to get this card. They'll also need to maintain an average daily balance of at least $1,000 in this account. This might seem restrictive, but it is optimal for anyone looking to link their services together.
Pros
Great cash-back rate slightly over 2% on the first $10,000
No annual fees
Attractive APR
Cons
Requires checking account with Alliant
No special welcome offer
2. Citi® Double Cash Card
The Citi® Double Cash Card provides 2% cash back but does so in a unique way. They describe the bonus not as simply getting 2% cash back but as receiving 1% cash back twice. Cardholders receive 1% cash back when they make a purchase and then 1% cash back when they pay it off.
In practice, that gives cardholders the same gains as any other 2% cash back credit card, but it also adds a little incentive to pay off their balance sooner.
The card is very unrestrictive, not having any mandatory purchase categories in order to get cash back. There's no cap on cash back earnings either, letting cardholders make the most of their card for essentially any kind of spending.
The Citi® Double Cash Card is also very versatile, giving cardholders the option to use their cash back in other ways. They can alternatively put their points towards online shopping, gift cards, travel or through a partnership with CVS.
The APR for the card ranges from — nothing out of the ordinary. The card doesn't have an annual fee but does have a foreign transaction fee of 3%. New cardholders can take advantage of an introductory APR offer. The Citi® Double Cash Card offers 0% for the first 18 months on balance transfers.
Pros
2% cash back as long as cardholders pay off their balances
No annual fee
Introductory balance transfer APR offer
Cons
APR offer is only for balance transfers, not purchases
Charges foreign transaction fee
3. Bread Cashback American Express Credit Card
Many consumers might not have heard of Bread Financial before if they've been exploring more conventional credit card issuers. The unique financial tech company focuses on co-branding, developing credit cards that offer specific benefits for consumers.
The Bread Cashback American Express credit card is a bit of a change from the company's usual category and brand-specific cards. It provides 2% cash back on any purchases, with no restrictions on which outlets, brands or categories consumers are shopping.
The APR ranges from % to % variable, marginally worse than some of the other choices on this list.
However, it's also the only American Express option. The company generally shies away from these types of offers, making the Bread Cashback American Express credit card a rare opportunity to enjoy the security and other benefits that American Express has to offer in a cash back card with no annual fee.
Cardholders have even more control over their cash back earnings with the Bread Cashback American Express credit card. They can choose between having the balance credited to their statement or direct deposit to a bank account.
Pros
2% cash back with no category restrictions
American Express security and benefits
No annual fee
Cons
No welcome offer
Less competitive APR
4. Capital One Spark Cash Plus
Unlike many of the other options on this list, the Capital One Spark Cash Plus specifically pegs itself as a business credit card. The versatile card includes a number of features geared towards business use, including having no present spending limits and no limit on its 2% cash back.
This really isn't the same as a consumer card, using a pay-in-full model instead. That means there isn't any APR because the full balance must be paid every month. While this might be a deal-breaker for consumers, it's a perfectly reasonable agreement for this type of business credit card.
A welcome offer provides a bit of additional incentive to choose this card. There is an up to $1,000 bonus for meeting spending thresholds in the first six months. The cardholder receives $500 if they spend $5,000 within three months and another $500 for spending $50,000 within six months.
Because this is a business card, it also provides free cards for employees so that all company spending can take advantage of the 2% cash back. There is a $150 annual fee, which is nothing out of the ordinary for a business card.
These employee cards aren't just for facilitating transactions but also give managers ways to track and monitor expenses. While the Capital One Spark Cash Plus is strictly for businesses, it's perfect for that use.
Pros
2% cash back on all purchases
Employee cards
Spending welcome bonus
Cons
Only for businesses
$150 annual fee
Good To Know

One of the most important things to keep in mind about 2% cash-back credit cards is that consumers need to pay off their cards to get the most benefit. Around 55% of Americans carry a balance from month to month, incurring interest that far outweighs their cash back benefit.
5. Synchrony Premier World Mastercard
Synchrony is a bank that provides a wide range of partnered credit cards from specific brands, including Lowe's, Ashley Furniture, Living Spaces, Midas and more. Among their offerings is the Synchrony Premier World Mastercard, another 2% cash back credit card that could be what consumers are looking for.
The card has no annual fees and offers a reasonable APR range of % to % variable. As a World Mastercard, the card carries a variety of protections from fraud to identity theft. This includes Mastercard's regular identity monitoring, making this a great pick for travelers.
There are very few restrictions on this card, with no limit on the total cash back and no restrictions based on spending categories. Cardholders will enjoy a very straightforward experience without the need to opt-in for any kinds of rewards or additional benefits.
The card also features a variety of additional discounts. Cardholders will enjoy additional credits for a variety of services, including DoorDash, Lyft, Hello Fresh and more. There are also included free trial memberships for several brands, including ShopRunner and Instacart.
Pros
Straightforward 2% cash back
No annual fee
A variety of unique offers and bonuses
Cons
Foreign transaction fee
High credit score requirements
6. SoFi Credit Card
SoFi is a relative newcomer to the credit card space. The online personal finance company offers a wide range of credit products, from credit cards to student loan refinancing, and it now even provides banking services.
The SoFi credit card is a 2% cash back credit card that offers many of the perks that consumers have come to expect from online finance. The card doesn't have any restrictions based on spending categories. There are no annual fees and a variety of added benefits from brands like Lyft, DoorDash and more.
In order to take advantage of the 2% cash back offer, consumers need to enroll in other SoFi financial products. Every dollar spent accrues two reward points, which only provide their full value if a user deposits them into a checking, savings or investment account with SoFi. If consumers want more cash back, they can apply and be approved to earn 3% with direct deposit for a year.
The SoFi credit card carries an APR range of % to % variable, potentially not too shabby for those with the credit to enjoy the lower end. Cardholders who make 12 monthly payments in a row on time and meet minimum requirements can have their APR lowered by 1%.
Pros
2% cash back on all purchases
Earn 3% cash back with direct deposit for a year if approved
No annual fee
Good APR
Cons
Additional SoFi accounts needed to receive full 2%
7. PayPal Cashback Mastercard®
Online shoppers might just have found their best cash back offer with the PayPal Cashback Mastercard®. This unique offering provides an additional bonus of upping cash back to 3% on purchases made through PayPal. Anyone who already uses PayPal could stand to gain a lot from this offer.
In addition to the unique benefits offered for PayPal payments, the card also provides 2% cash back on regular payments. There aren't any further category restrictions, and the cash back is unlimited.
Unfortunately, applications for the PayPal Cashback Mastercard® are currently closed. Instead, applicants need to add their names to a waitlist for more information.
Once the cards are available again, new customers will enjoy a great welcome offer. There's an additional $100 cash back on the first $500 spent for new accounts. With this bonus and great new features, this card is worth keeping an eye on.
Pros
2% cash back everywhere
3% cash back on PayPal purchases
No annual fee
Cons
Currently unavailable
Cash back only goes to their PayPal account
8. Fidelity® Rewards Visa Signature® Card
The Fidelity® Rewards Visa Signature® Card is a cash back card that is intended to synergize with Fidelity's various savings and retirement products. To take advantage of the 2% offer, cardholders need to deposit their cash back into a qualifying Fidelity account.
Individuals can also redeem their points for a variety of other rewards but at a reduced rate. These include travel, merchandise and more. With eligibility to deposit the full 2% into IRAs, 529 College Savings Plans and more, the best option for this card is its use in supplementing long-term savings and investments.
There's no annual fee and a low foreign transaction fee of 1%. This is a Visa Signature card, so cardholders receive a number of additional benefits. These include auto rental collision damage waivers, lost luggage reimbursement, travel accident insurance, roadside dispatch and more.
Pros
2% cash back anywhere
Visa Signature benefits
No annual fee
Cons
2% only when deposited in Fidelity accounts
How To Choose the Right Cash Back Card
These cards are all great options for specific individuals. To figure out which is the perfect fit, consumers should consider what their unique needs are. Almost all of these cards provide additional benefits in some areas, so consumers should take a closer look at what these bonuses mean to them.
Final Take

Consumers should take the time to study these great 2% cash back credit cards carefully to make sure they're getting the most out of their everyday spending. Different cards work best for different types of spenders, so it's important to research the options before making a selection.
Rates and fees are subject to change.
GOBankingRates is a personal finance and consumer interest rate website owned by ConsumerTrack Inc., an online marketing company serving top-tier banks, credit unions and other financial services organizations. Some companies mentioned in this article might be clients of ConsumerTrack Inc., which serves more than 100 national, local and online financial institutions. Rankings and roundups are completely objective, and no institution, client or otherwise, paid for inclusion or specific placement. Any opinions, analyses, reviews or recommendations expressed in this article are those of the author alone and have not been reviewed, approved or otherwise endorsed by the companies included in the article. All fees and rates are subject to change at the issuers' discretion. Some interest rates might be short-term or promotional offers only, and it is possible additional terms and conditions must be met to obtain the interest rates listed. Rates and availability might vary by region. Verify terms and conditions before opening an account.
GOBankingRates bases its assessment of "best" and "top" products on the above-stated parameters to create a baseline for comparison. This assessment is an approximation of "best" and "top" designed to help consumers find products that might be appropriate for them. There could be other options available as well. Consumers should consider various options appropriate for their circumstances.
Our in-house research team and on-site financial experts work together to create content that's accurate, impartial, and up to date. We fact-check every single statistic, quote and fact using trusted primary resources to make sure the information we provide is correct. You can learn more about GOBankingRates' processes and standards in our editorial policy.
link